Latest secret walk:
Blessed with unexpectedly kind weather, we started off with breakfast in Battersea Square; reminiscent of local squares in small Greek towns.
Nearest attraction is St. Mary's Church. Completely unknown to most Londoners,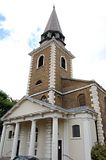 but Turner used to walk there from his Cheyne Walk home and draw sketches of the Thames from the church's vestry window. The tall chair he used to sit on is still there in the church. Also, William Blake was married there. A bit more trivial knowledge: burried in its crypt is Benedict Arnold, the American General who defected to the British during the American Revolutionary War. While in command of the fort at West Point, New York, he plotted to surrender it to the British. Unsuccessfully. I imagine that the British consider him a hero and the Americans a traitor, but I don't really know.
Next, we follow Turner back home from St. Mary's over the bridge to Cheyne Walk.

Cheyne Walk
Turner used to live in 118-119. Next to him, Pankhurst in 120. Brunel in 98, Jagger in 48, Maxwell in 41, Sloane in 19-26, Rosetti in 16, David LLoyd George in 10, George Eliott in 4 and Keith Richards in 3. George Best and Laurence Olivier were also somewhere there. Before these, Chelsea was a rather unpopular place, but long before them it was the residence of Sir Thomas More and later one of King Henry VIII's. Henry is said to have married his third wife Jane Seymour in Chelsea Old Church, soon after the execution of Anne Boleyn. The south chapel was built by Sir Thomas More in 1528 for his own private worship. His latin inscription asks that he be buried next to his wife. More is one of my favourite historical figures. I highly recommend the
"A Man for All Seasons" (1966, 8.1/10 on IMDB)
if you want to learn More about him without opening a book. It's a lesson in dignity.
National Army Museum
One of my favourite museums in London. It's ironic how civilised a museum about war can be. It has to do with the fact that it's in the heart of Chelsea and that unlike the Imperial War Museum no tourist knows about it.
Royal Hospital Chelsea
Probably the most impressive of all retirement homes, it's the home of about 310 pensioners,
all war veterans. It carries the name Hospital in its original meaning (a place where hospitality is provided). I'm not sure what's more impressive; the history of the Royal Hospital, the personal stories of its occupants or the complex of buildings itself. It was designed by Sir Christopher Wren, commissioned by King Charles II. My favourite bit from the Royal Hospital is the inscription on the statue that welcomes the visitors: "
If I forget thee do not forget me
". Last time we were there, one of the pensioners told us that the table in the dining hall is where they placed Wellington's body for seven days when he died. The specific pensioner was a world war 2 veteran. His regiment fought in several places, but he was wounded just before it was transfered to Greece.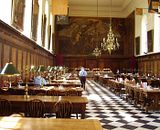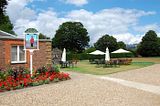 Saatchi Gallery
What can I say!!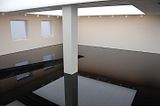 Westminster Cathedral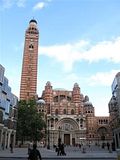 Despite its location in one of the busiest areas of London, its impressive size and striking Eastern Orthodox architecture, Westminster Cathedral is unknown to tourists and many Londoners. Ignore the misleading architectural style. It's a Catholic church; in fact it's the mother church of the Roman Catholic community in England and Wales and the Metropolitan Church and Cathedral of the Archbishop of Westminster.
On the way to the last leg of the walk, past the cricket pavilion of Vincent Square and towards Pimlico and Vauxhall Bridge. A very quiet part of the city. Completely different to nearby Victoria.
Vauxhall Bridge
It's remarkable how many are not aware of what in my opinion is the most majestic building in London.
Less remarkable is that very few are aware of the miniature St. Paul's on the side of Vauxhall Bridge. You can claim that it's the smallest Cathedral in London :P. Oh well...
Tate Britain
That's effectively the National Gallery of British Art (Tate was the founder). It includes several of Turner's works, but we were too tired for one more museum and we left it for another day. It's not limited to paintings. Especially the upside-down Harrier was perfect for Pisa-like photos.
Last, we took the boat that connects Tate Britain with Tate Modern for a gentle walk in South Bank.
South Bank
One of the favourite walking areas of Londoners, but that's for another day. For the time being some photos only: